Today in Design Focus we catch up with Rich Reisberg (Engineering Director) and Doug Gore (Production Director & SyberVision™ Project Manager) for SyberJet Aircraft in the San Antonio Engineering center. Rich and Doug have been on the SJ30 program for nearly 20 years and were instrumental in the design, manufacture, and certification on the original SJ30-2. They now lead a similar effort on the SJ30i aircraft which features SyberVision™ – the latest avionics suite to be certified on the SJ30i as well as all other design activity including the all-new interior and numerous production improvements.
Let's catch up with Rich & Doug:
As SyberJet moves forward a specific emphasis has been placed on developing software and design tools that make the design and production process cleaner, more innovative, and efficient. Can you elaborate on the various systems that have been put in place to increase the effectiveness of the design team for the SyberVision™ project?
Doug|Rich: In the past the wire harness design was accomplished by using wire diagrams to determine where the wire began and ended for each component and a full scale aircraft mock-up to develop the actual routing through the aircraft structure.  This process was completed for each wire shown on every wire diagram throughout the aircraft until each component was connected.  The original SJ30-2 had three very large wire harnesses (a nose bay harness, a cabin harness (including the cockpit), and a baggage harness) laid up full scale in a mock-up of the aircraft.   These main harnesses consisted of hundreds and hundreds of wires with many wires going back and forth within a harness to connect to remote components such as relays and terminal junctions.  Once the routing was determined in the mock-up these large harnesses were removed from the mock-up and laid out flat on boards. With the harness on the boards an outline of the harness in two-dimensions was traced on the board. These outlines on the boards defined the form board used to make future harnesses. By manually measuring the length of each wire "wire length cut data" was developed for each wire in the harness to be used for the next serial number harness.  Although these production tools were developed through reverse engineering (form boards and cut sheets) there were variations on future production harnesses because the actual routing of each wire was not thoroughly documented, thus resulting in wires being routed differently from plane to plane.  This caused rework on the production floor, variations in wire lengths, and harness weights which ultimately led to higher cost and increased flow times.
Based on the experience of production and engineering personnel at SJA during previous aircraft builds SJA decided this was a good time to create engineered wire harnesses to reduce cost, flow time, and have a more consistent, quality product. An engineered wire harness is developed using software tools to develop the beginning and end points, capture wire length cut data, model it in three dimensions along with all of the other mechanical systems and aircraft structure, develop a single routing path for each harness, and use that resulting data to develop the form boards.
In order to achieve an engineered wire harness design as described above many steps were required as shown below.
Step 1: Wire Diagram Design

Zuken E3 is used to develop the beginning/end points of the wire, the wire type, connectors, shielding, etc required for the harness.

Step 2: NX Routing / Wire Harness Drawing

Using the Zuken data the harness is routed in three-dimensions in a model of the actual aircraft and a drawing is made that defines that harness.

Step 3: Form Board Drawing

Using a special feature of Unigraphics the harness above that was created in three dimensions is flattened (two-dimensions) to create a form board drawing.

Step 4: Form Board

The form board drawing is superimposed on a large table and the wire harness is built using it as a template.

Step 5: Wire Harness Build

The wire harness is manufactured including the wire and all its various connectors, shielding, etc.

Step 6: Wire Harness Installation Drawings

An installation drawing provides the details for the mechanics to install the wire harness on various brackets, clips, etc in the aircraft.

Step 7: Wire Installation on Aircraft

The final product is the wire harness installed on the aircraft.
SyberJet purchased the wire diagram software (Zuken E3™) to manage the electrical design and to interface with our 3D design software (Unigraphics NX) to provide termination data.  In order for Zuken E3™ to be useable and for NX to accept data from Zuken E3™ each electrical component on the aircraft (even light bulbs) was created in the Zuken E3™ library and modeled in NX.  As the wire diagrams were completed for each harness NX designers extracted each wire, its' termination (beginning and end points), and the components by harness number and designed that harness independently.  The NX effort consist of 3D modeling of each wire, routing it through the 3D model of the aircraft, and designing proper support and clamping of the harnesses in the airframe.  The NX designer also created a form board which is the manufacturing tool which contains all the information needed to build the harness.  The form board is a full size drawing used as a backdrop which wires and connectors are laid on top of to produce a harness assembly.  In addition to wire diagrams, form boards, and assembly drawings engineering also produces wire length cut data, an engineering bill of materials (EBOM) for each harness component, and hook up list which are electronically verified with the Zuken E3™ software.
The end result of this effort will be consistent wire harnesses, a complete model of aircraft wiring, wire harness assembly drawings, improved installation documentation, and improved and optimized routing through the airframe which should reduce overall length of wires needed.
Our customers will realize a better, more cost effective design and have better maintenance support of the avionics and electrical systems.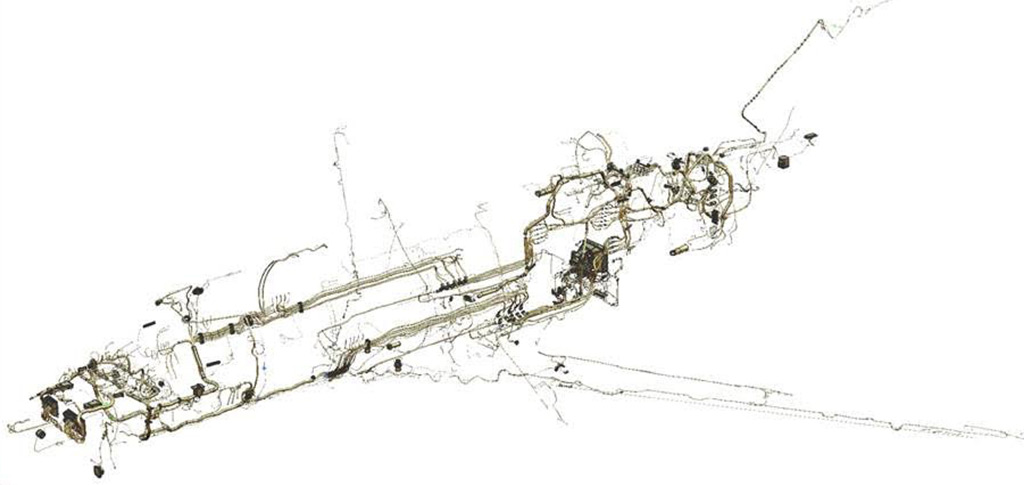 Can you expand on how the new systems are making the manufacture and installation of the wire harness more efficient and less labor intensive?
Doug|Rich: The use of engineered wire harness form boards in the manufacturing will produce consistent harnesses unit after unit.  These assembly tools contain all needed information for assemblers to assemble the wire harnesses.
The simplified design of smaller harnesses with additional airframe disconnects will greatly improve build times, installation time, ease trouble shooting, and repair if needed.  Build time will be reduced because of the improved form boards with build instructions and the smaller size is easier to manage and test.
The original harness was very large, heavy, awkward to handle making it difficult to maneuver and install.  The new design breaks up the large harnesses into smaller manageable harnesses.  As an example; previously a single harness may have contained 500 wires and ran the length of the cabin.  Our new design will break that single harness into multiple harnesses with less wire.  The smaller harnesses will be much easier to handle and install, and because the harness are not as large, there is less in aircraft assembly work needed.
In service aircraft will also benefit from smaller harnesses if a repair is needed since a complete harness can easily be removed and replaced if needed.
---
About SyberJet Aircraft
SyberJet Aircraft is an MSC Aerospace company and a U.S. based producer of the world's fastest and longest range seven-seat light business jet – SyberJet's own proprietary SJ30. The SJ30 is single pilot FAA certified jet with a top speed of Mach 0.83 (486 kts / 560 mph) and a 2,500 nautical mile range. It maintains sea level cabin pressure up to 41,000 feet (maximum flight ceiling is 49,000 feet). The SJ30 holds three world records for speed and distance. It is designed with a 30 degree swept wing for high speed and fuel efficient cruising and with leading edge slats and flaps that are optimized for low speed approaches and gentle landings. These state-of-the-art aerodynamic features, coupled with the efficiency and power of Williams FJ44 engines and the advanced technology of SyberVisionTM avionics (with Honeywell inside), make the SJ30 best in class. SyberJet Aircraft has operations in Cedar City, Utah and in San Antonio, Texas.